Government Affairs Committee
AAED is committed to engaging with policy makers to effectuate positive change for economic development issues affecting the state of Arizona.
To do so, AAED has a Government Affairs Committee comprised of AAED leadership and AAED members that participate in the legislative process by educating and informing Arizona Legislators and AAED members on key economic development related issues.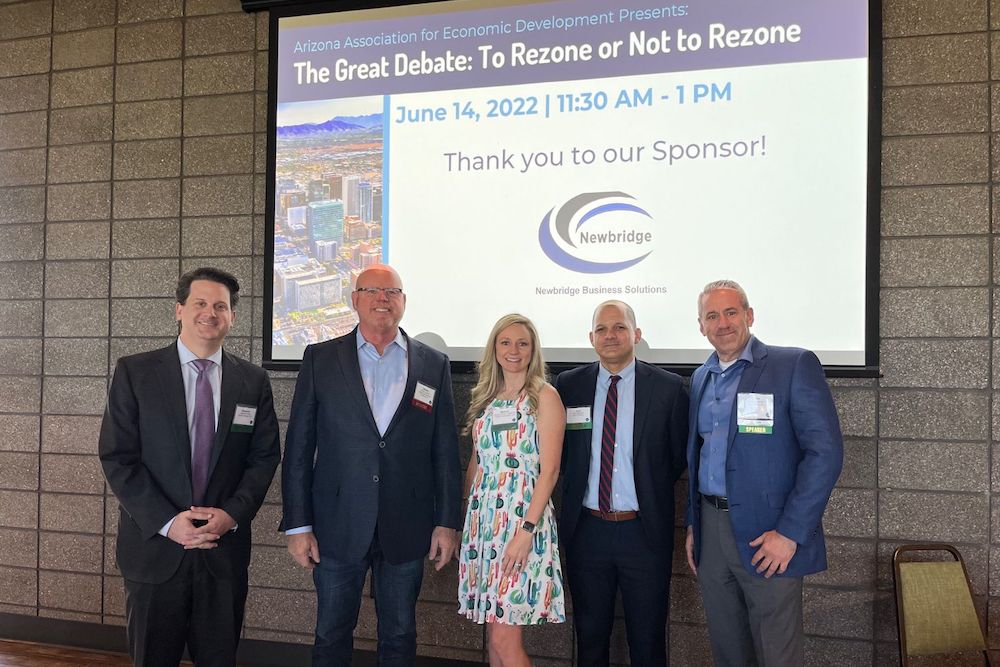 SUPPORT REAUTHORIZATION OF THE ARIZONA COMMERCE AUTHORITY
AAED strongly supports the reauthorization of the Arizona Commerce Authority (ACA). For more than a decade, the ACA has successfully worked to facilitate the beneficial economic growth and development of Arizona and promote prosperity through the development and protection of the legitimate interests of Arizona business, industry, and commerce within and outside this state. It must be continued.
FUND TRANSPORTATION INFRASTRUCTURE
AAED supports the development, maintenance, and improvement of transportation that facilitates and results in business development and job creation. Technological advances must be included when considering transportation needs. This critical infrastructure ensures Arizona's competitiveness in attracting and retaining businesses into our communities.  
EXPANDING ECONOMIC DEVELOPMENT PROGRAMS TO MAKE ARIZONA MORE COMPETITIVE
AAED supports programs and policies that encourage businesses to expand in Arizona and enhance our state's competitive position in attracting and retaining high-wage jobs. AAED also supports policies and investments that promote reliable and affordable electric service that emphasizes resource adequacy, price stability, and consumer protection as a foundation of Arizona's continued economic success. Finally, AAED supports performance-based and return-driven policies and encourages a diversity of businesses to locate and remain in Arizona for the long term, enhancing Arizona's competitive efforts to attract and retain high-wage jobs and encourage capital investment.
ENSURE A QUALIFIED WORKFORCE AND WORKFORCE PIPELINE
AAED supports sustainable policies and funding for education and training programs that result in a thriving qualified Arizona workforce. Supporting not only a healthy innovation pipeline but also a robust internship and craft training ecosystem have verifiable impacts on the overall economic health of our state. AAED supports Arizona career and technical education districts and programs, increasing awareness for students to access CTE, and in obtaining in-demand industry credentials. A qualified workforce with a balance of post-secondary education and workforce training will support Arizona's competitiveness in retaining and attracting high-wage jobs.
RETAIN AND MODERNIZE EXISTING ECONOMIC DEVELOPMENT TOOLS
For Arizona to remain competitive amid an ever-changing global economy, the State must continue to evaluate its economic development programs. Programs should reflect the State's focus for business attraction, growth, and retention when compared to other parts of the world. AAED membership opposes unnecessary changes that reduce or delay existing and proven economic development tools and programs. Many companies choose to relocate or expand in Arizona because of these programs. The need to remain consistent and competitive is critical to Arizona's long-term economic development success.
WATER IS CRITICAL TO CONTINUED ECONOMIC GROWTH
AAED applauds the Arizona Legislature for its investment in water conservation, reuse, and augmentation projects. In addition to support for additional water infrastructure funding, AAED supports the ongoing negotiations regarding future Colorado River operating rules (Reconsultation) and the pursuit of larger contributions from other Colorado River Basin States to conserve additional Colorado River water.  
BROADBAND EQUITY, ACCESS, AND DEPLOYMENT (BEAD) INFRASTRUCTURE
AAED supports the state's broadband plan by ensuring federal BEAD dollars are spent first in unserved and underserved communities. All levels of government should work with the private sector to reduce barriers to entry to broadband providers, including creating reasonable license fees, expediting permit times, and encouraging construction deployment methods of broadband that will allow for the greatest number of Arizonans to be served with high-speed internet as soon as possible. Workforce is also critical. AAED encourages community colleges and technical schools to offer programs aimed at building a robust 21st-century broadband workforce in Arizona. Finally, Arizona's federal congressional delegation should actively pursue a permanent mechanism to fund the Affordable Connectivity Program (ACP) which has helped nearly half a million Arizonans access the internet.  
Legislative Lunch on the Lawn
The Government Affairs Committee coordinates the annual Legislative Lunch on the Lawn. This event provides an opportunity for AAED members to meet with Arizona legislators and their key staff members to discuss the vital role of statewide economic development policies.
AAED Honors State Legislators as 2022 Economic Development Champions
March 6, 2023 | Arizona State Capitol
AAED Honors Trio of State Legislators as 2022 Economic Development Champions for their Commitment to Help Grow the State's Economy
The Arizona Association for Economic Development (AAED) honored three legislators at the Wesley Bolin Plaza at the Arizona State Capitol on Monday for their commitment and support in growing Arizona's economy at the annual Lunch on the Lawn that recognizes the organization's Economic Development Champions.
Since 2014, AAED has honored and recognized elected officials who have sponsored and supported bills and causes that are important to the growth of the Arizona economy.
This year's honorees were Sen. Frank Carroll (R-Peoria), Sen. Lela Alston (D-Phoenix), and Sen. Rick Gray (R-Peoria).
"These honorees have been champions for transportation, education, the tourism industry, and numerous other economic drivers important to the people of Arizona," said AAED President, Wendy Bridges, Economic Development Director with the City of Goodyear. "Economic development is a team sport, and economic developers across the state could not drive Arizona's economy forward without the help of our legislators. We are also grateful for generous support for this event from SRP and APS."
Carroll sponsored several bills that extended the Maricopa County Regional Transportation Tax throughout the past two years. His legislation would ensure a balanced approach to transportation through investments in roads and transit.
Alston is considered one of Arizona's most respected public education advocates. She has been a member of the Phoenix Union High School District Governing Board since 2008. She was instrumental in planning the Arizona State University West Campus and spearheaded the efforts to establish Metro Tech High School's licensed primary care facility in partnership with Banner Health.
Gray was elected to the House in 2011 and completed his service to the people of Arizona last year in the Senate, representing the constituents of LD -21 as Majority Leader. Throughout his tenure in the legislature, he sponsored legislation that helped preserve Luke Air Force Base, helped the tourism industry, bolstered education, and made transportation investments in Arizona.
The three awardees were nominated and voted on by the AAED Government Affairs Committee and confirmed by the AAED Board of Directors.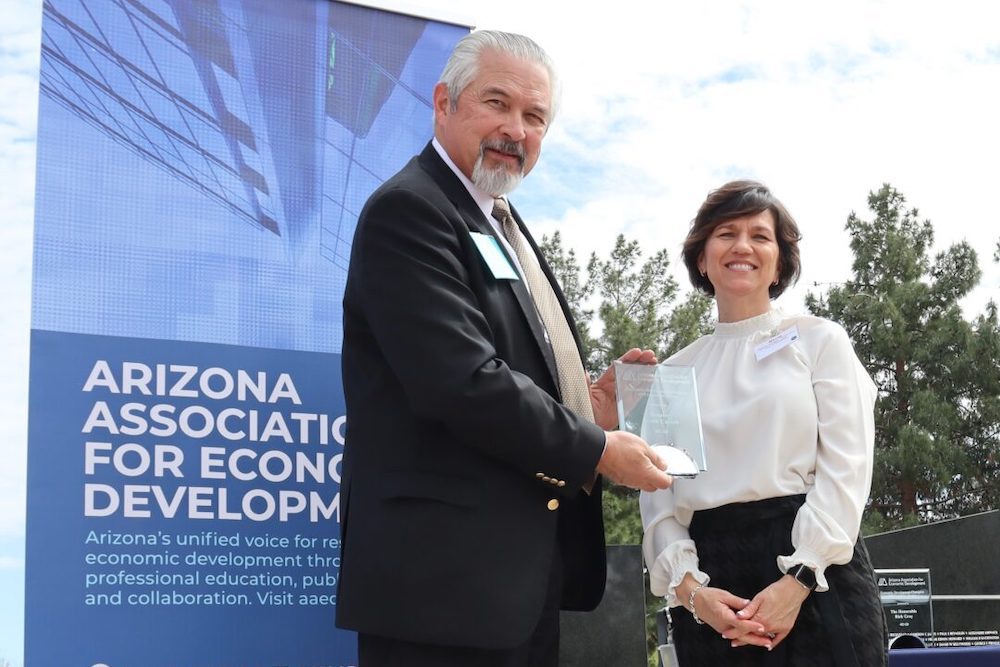 AAED President, Wendy Bridges, Economic Development Director with the City of Goodyear (right) presents an AAED Economic Development Champions award to Sen. Frank Carroll (R-Peoria).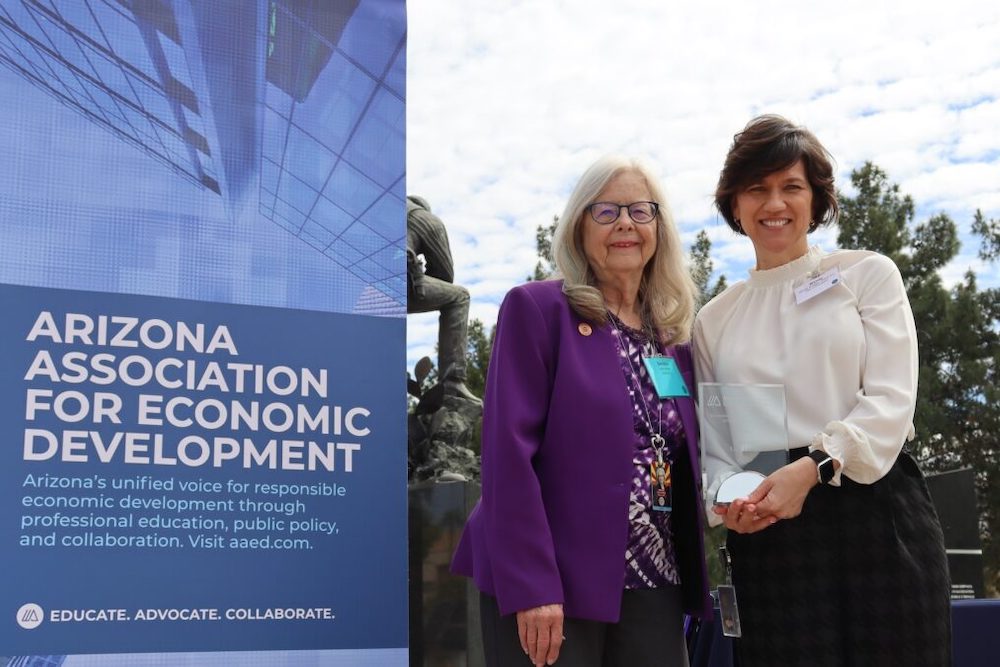 AAED President, Wendy Bridges, Economic Development Director with the City of Goodyear (right) presents an AAED Economic Development Champions award to Sen. Sen. Lela Alston (D-Phoenix).
VIEW PAST ECONOMIC DEVELOPMENT CHAMPIONS
2022 Senator Frank Carroll (R-Peoria)
2022 Senator Lela Alston (D-Phoenix)
2022 Senator Rick Gray (R-Peoria
2021 Representative Michelle Udall (R-Mesa)
2021 Representative Cesar Chavex (D-Phoenix)
2021 Senator Tyler Pace (R-Mesa)
2020 Representative Ben Toma (R-Peoria)
2020 Senator David Gowan (R-Sierra Vista)
2020 Representative Frank Pratt(R-Casa Grande)
2019 Senator Linda Otondo (D-Yuma)
2019 Representative T.J. Shope (R-Coolidge)
2018 Senator Kate Brophy McGee (R-Phoenix)
2018 Speaker of the House Rusty Bowers (R-Mesa)
2018 Representative Jeff Weninger (R-Chandler)
2018 Representative Noel Campbell (R-Prescott)
2017 Senator Frank Pratt (R-Casa Grande)
2017 Representative Jeff Weninger (R-Chandler)
2017 Senator Sean Bowie (D-Phoenix)
2017 Representative Noel Campbell (R-Prescott)
2016 Senator Bob Worsley (R-Mesa)
2016 Senator Gail Griffin (R-Hereford)
2016 Representative Don Shooter (R-Yuma)
2016 Representative Brenda Barton (R-Payson)
2015 Representative Jeff Weninger
2015 Senator Andy Biggs
2014 Representative Karen Fann
2014 Senator Jeff Dial